SEND ALL ELECTRONIC GIFT CARDS TO missbadbetty@yahoo.com
Buy me something and I will have it photographed with me wearing or holding the item! I am 100% real and love to be spoiled!!
My amazon wish list

My favorite stores to receive electronic gift cards from…….
www.secretsinlace.com
www.victoriassecret.com
www.fredericksofhollywood.com
www.sephora.com
www.dollhousebettie.com ~THIS SITE ROCKS!! HERE IS MY WISHLIST RIGHT FROM THE STORE!~

Send me to the Spa!
www.salonwish.com
http://www.spafinder.com/Catalog/spagiftcertificates.jsp
My favorite catch all store!
www.giveanything.com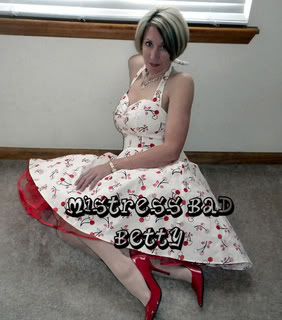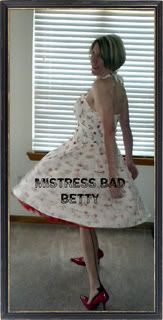 Hello Betty boys!
I know I am long overdue for a update. Things have been crazy for me. I have met some very interesting new clients lately and I am glad you have found me! Lars from Denmark LOL what a pig! I had a long converstation with this slob and I can tell he is the biggest loser! The fat whale sits and stuffs his face all day and sits around and mopes about it. I had a great time laughing at his expense and hope he comes back for more torture!
My present cow *C* continues to spoil me like a queen. Below is a photo of some of the things most recentley purchased and sent to me. I love all the dresses, stuff
movies, unhealthy magazine subscriptions, money, shoes and candles you have sent me! I look forward to the day I can rape your wallet IN PERSON! Isnt it great that I am real and you can see me on cam? I know most of you have figured out that most *Doms* online use fake photos while they attempt to clean you out. I am 100% real and losers like *C* just cannot get enough of me! hahaha!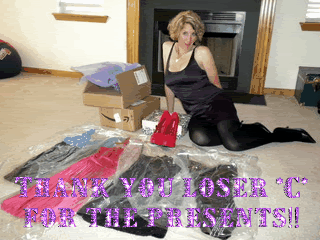 As usual I have been going to as many new movies as I can. I went and saw *Hot tub time machine* LMAO it was soooo damn funny!! If you grew up in the 80s you need to see it!
Looks like my Atlanta Braves are off to a good start. I would like to thank Ukslave for the killer Braves tank top you sent to me!! really good stuff!! I will be around this weekend for cam/phone sessions and also for those of you who cannot talk on the phone, I offer instant message sessions with me on cam via Yahoo and Skype. Catch you later bitches!